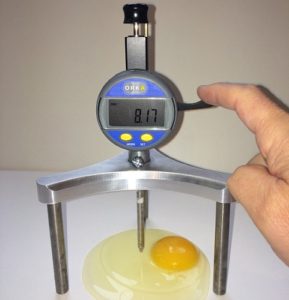 ORKA's Digital Haugh Tester measures the height of egg albumen and allows you to manually determine the Haugh unit quickly and accurately!
Haugh unit represents the quality of the egg, using the following formula:
Haugh unit = 100*log(H – 1.7*W0.37 + 7.6)
Where:
H=height of albumen (mm)
W=egg weight (g.)
Digital Haugh Tester is extremely precise and friendly to use in order to assist you with the correct process of reading of the albumen height.
Features:
– Extremely precise and friendly to use
– Haugh unit calculator (excel format) included
– Direct mm/inch conversion
– Lifting lever included
– High contrast LCD display
– CE approved
Technical Specifications:
– Max measurement height: 1'' or 25mm
– Max micrometer error : 0.0002''
– Resolution : 0.0005''/0.01mm
– Power supply : 1 Lithium battery , type CR2032
– Mean Battery Life : 4400 hours
– Weight : 0.5 Kg
If you are interested in more advanced automatic Haugh unit testing equipment, please click here!